Welcome to ALL USB
All USB is your one stop source for USB and flash memory information. Here you will discover the history of the Universal Serial Bus (USB), how it works and insight into its latest technological developments.This site covers USB technical components, such as the role of boards, chips and controllers. All USB examines storage sizes from 16 megabytes to 256 gigabytes as well as products and accessories such as lanyards and key rings.
Find out how a number of consumer applications including personal data and archival purposes incorporate USB technology. We'll tell you how a USB thumb drive can be transformed from a basic memory stick to a custom shaped or custom print work of art, along with the services that help to make it happen. To further your knowledge of this storage medium, we also provide links to USB related sites and flash memory resources.
Latest Blog Post

[May 17, 2013]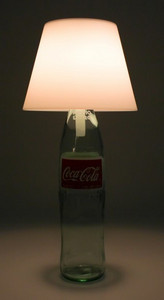 Those who are resourceful enough can keep empty bottles and use them either for storing water, as flower vases or as personalized items for display. Others prefer to display them as they are in the mini bar; after all, they used to contain expensive liquors. But here's a better way to recycle your empty bottles, especially those which are noticeably attractive. The Satechi Touch USB LED Lamp will change the way you look at those empty containers.
U…
Read More About DIY Lamp with Satechi Touch USB LED Light