USB Duplicators
A USB duplicator is a piece of equipment that can copy data to a blank flash drive in high volumes through the use of multiple ports in one tower. The multi-port capacity of these devices can range anywhere from three ports for lower volumes to nearly eighty ports through the attachment of add-on towers linked to the same system, with one or two subsequent ports for master file uses. As a result, it is possible at maximum capacity to duplicate hundreds of USB drives within an hour.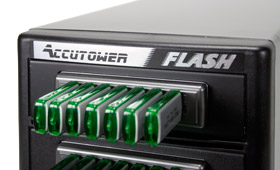 Most flash drive duplicators may primarily support USB 2.0, but with the rise of the USB 3.0 system, a small yet growing number of flash drive copying equipment allows for 3.0 use with 2.0 backward compatibility.
USB drive duplicators suit a number of practical applications for businesses and organizations to distribute marketing material to clients as well as manuals and programs for employees. US Digital Media, TEAC, Microboards, AVPro and Nexcopy are some leading manufacturers for USB drive duplicators.
USB flash duplicators can function in one of two operations: as a standalone unit or as a device with a computer operating system connection. Alternately, some manufacturers like US Digital Media for its Accutower Flash will provide a comprehensive system that includes not only the duplicator tower, but also a compatible monitor, keyboard and mouse purposed for duplication.
Standalone duplicators can benefit from their lack of dependence on a separate system, as they are immune to the vulnerabilities that befall a PC like viruses, malware and spyware because these computer nuances are not transmitted to their hardware through a connection. However a computer connection allows for more flexible options in the copy preferences through the duplicator's software.
The basic operation process of nearly any flash drive duplicator involves the insertion of the blank USBs into the multiple destination ports and the master or original USB into the source port. Duplicator towers may also allow the use of a CD, DVD or an alternative form of flash memory to be used at the master file. For equipment with a computer connection, the system's software may show a selection of target and destination drives with the choice of how a user would like to approach the copy process.
In addition to copying, drives can also be erased or formatted. One may choose to copy certain drives, while erasing others. Formatting helps to ensure the erasure as well as determine the volume capacity of a drive. A dialog box will appear on the monitor at the end of the copy process to indicate the results and notify the user if there were any errors or discrepancies. The LED lights on some USB flash drives will also help you determine that they are busy when blinking and finished with the process when dark.
A standalone USB flash duplicator will provide an even more basic copy process. Insert the blank or erasable drives into the ports and activate the copy process via an intuitive front control panel that contains only a few buttons. A flashing signal at each port on the tower may be present in order to determine the status of the duplication copy process.

Below is a video explaining how the Accutower Flash USB Duplicator machine works.