USB Gadgets
USB devices may function as computer peripherals, but flash memory has some peripherals of its own with USB gadgets. These gadgets consist of everyday items ranging from functional and useful to zany and irreverent, each powered by a USB connection. Whether it's a device, hub or adapter, we'll show you a wide variety of these gadgets to demonstrate how they can maximize your overall USB experience.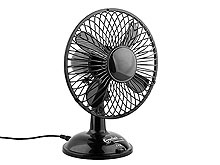 Keep your cool while working from your computer with a USB-powered oscillating fan. Like any normal fan, it operates at multiple speeds and angles.
Style and function merge in what could be considered as a 007 fashion statement. Rather than carry a USB flash drive in your pocket, you can discreetly carry 2 gigabytes on each sleeve. To take this trend to the next level, you can have the pair of functional links engraved.

Digital technology joins the legion of tools that make up a multipurpose classic. A knife, ballpoint pen, scissors and screwdriver accompany this 2 gigabyte to 8 gigabyte USB drive.
«
Start
Prev
1
2
3
4
Next
End
»
Page 4 of 4